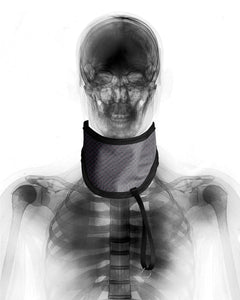 Leaded Thyroid Shield
Regular price $90.00 Sale
Color: Black
0.5mm Lead Equivalency
Easy to clean
Velcro fully adjustable, comfortable fit
Large protection area
Easy on/easy off convenience
One size fits all
Meets current FDA ASTM protective standards
Minimize radiation exposure for patients and medical personnel by using Lead Glass Pro high-quality thyroid shields during imaging procedures. Several common thyroid conditions can have potentially devastating impacts on a patient's health. Lead thyroid shields prevent harmful exposure to this sensitive gland. We offer a full assortment of lead thyroid collars and lead neck shields to ensure quality care and peace of mind.
Lead thyroid shields protect medical staff and patients from the radiation exposure which can result life-threatening complications.
Our team has developed the best thyroid shields that meet the unique needs of your medical center. Our collars are easy to clean which helps meet the demands of hygienic medical procedures. Read more about our lead thyroid shields, or place an order today. Depending on inventory, our radiation protection products can ship in 2 days.
Our thyroid shields are utilized by hospitals, private practices, and imaging centers around the world. Give your patients and medical staff the quality care and protection they deserve with risk-reducing lead thyroid collars from Lead Glass Pro.
Thyroid protection is one of the most important things to consider during any imaging procedure. Featuring a premium-fit sizing for nearly every need, thyroid shields are one of the most important protection accessories for medical imaging.