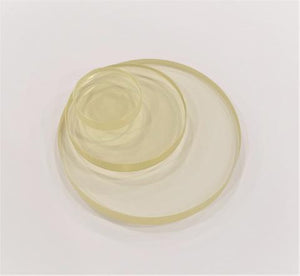 Lead Glass Discs
Regular price $427.00 Sale
We provide lead glass discs for your project-specific requirements. Select from standard sizes or request a quote for custom sizes or lead thicknesses. The standard tolerance for glass discs is 0.050"
Lead glass disc purchases include free shipping.
All the x-ray leaded glass discs listed here meet 2mm lead equivalency based @ 150kvp. We offer higher lead equivalencies if required.
While this is the most common lead equivalency for general x-ray rooms used by doctors, dentists, chiropractors, and medical centers; you will still need to check with your local health official or radiation physicist to determine the required lead shielding for your room.
To request a quote on a custom size or lead equivalency Click Here
Standard X-Ray Lead Glass does not meet impact resistant requirements to be used in doors or within 24" of doors.
Impact resistant X-Ray safety is available upon request and meets ANSI Z97.1 and CPSC 16 CFR Part 1201 CAT I and is permanently labeled as safety glass.
Contact us at sales@leadglasspro.com for a formal quote for custom sizes or lead equivalencies.
- Customer must verify lead equivalency meets the shielding requirements of the room.
- Payment will be required to begin fabrication. Once fabrication begins, no cancellations or changes may take place.
- By placing this order and paying you accept and have verified sizes, quantities, lead equivalency, and accept the terms for shipping / receiving and returns / replacement.
- All products must be inspected upon delivery in the presence of the delivery driver. Once the product is received and the delivery receipt is signed, no claims for damage will be entertained. If there is damage, note it on the delivery receipt and contact us immediately.
- All radiation shielding calculations must be determined by a radiation physicist.