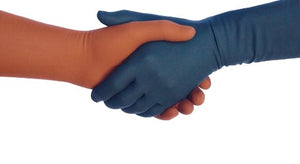 X-Ray Lead Gloves
Regular price $1,540.00 Sale
Our sterile, radiation resistant gloves protects while provide dexterity and comfort. Thinner texture grained fingertips provide enhanced tactile sensitivity while anatomically correct curved fingers reduce hand fatigue. X-Ray shielded gloves reduce scatter radiation, not intended for primary beam exposure. The material is powder-free — reducing proteins, antigens, and irritation. FDA 510(K) approved for surgical use.

| | | |
| --- | --- | --- |
| | Leaded Gloves | Lead-Free, Latex-Free |
| Color | Brown | Black |
| Thickness | 0.6mm | 0.3mm |
| Size | 9 | 9 |
| Quantity | 30 Pairs | 5 Pairs |
| PB Equivalency | 0.097mm | 0.073mm |
| Attenuation at fingertips | 62% | 49% |
Industry-Leading Lead Gloves for X-Ray Operations
X-rays are typically done in non-emergency settings where patients only receive a screening. However, there are serious circumstances that demand x-rays be taken during an actual operation. Doctor's performing the surgery need to successfully complete the operation while still remaining shielded from the harmful x-rays. That's where our x-ray lead gloves come into play.

These professionally designed lead gloves offer the dexterity and sterility of standard operating gloves with the added protection of radiation-resistant material. They provide the perfect balance surgeons need to successfully complete these complex and critical operations without risking unnecessary radiation exposure.
Sterile, Dexterous, and Anatomically Aligned
These lead gloves are designed to fit anatomically correct to the natural curvature of fingers. Better yet, every finger of the glove is specifically tailored to match the feel of that specific digit for optimal dexterity. This also limits hand fatigue so surgeons can operate with the utmost confidence.
Tactile Tips
Doctors don't have to worry about losing finger dexterity and tactile sensitivity at their fingertips since our gloves come with thinner and grained material at the fingertips. This allows for finer handling of even the smallest instruments, allowing surgeons to remain unimpeded during x-ray operations.
Comfortable Design
Surgeons shouldn't have to worry about discomfort from surgical gloves when performing an operation which is why we've designed our lead gloves to be as lightweight, dexterous, and comfortable as possible without sacrificing any protection from radiation.
Universal Fit
We've designed our lead gloves to comfortably fit various hand sizes so doctors can operate naturally without feeling cumbersome or limited in their dexterity. Instead of using a variety of providers, you can reliably source all your radiation protective materials from one convenient place.
Bulk Order
You need a new pair of gloves with every operation which can add up quickly, especially for larger practices. A single order of our lead gloves will get you 30 pairs of industry-leading lead gloves. You can order as many as you need at once so you can keep your inventory stocked.
Extended Protection
Our lead gloves extend far past the hand and wrist area to provide extended protection up to the end of the forearm. It's not enough to simply block radiation in the hands since x-rays can reach further up the arm in x-ray operating rooms.
Get your hands on industry-leading lead gloves today!
Your practice, surgeons, and patients deserve the best lead gloves. They offer protection from harmful radiation so surgeons can operate with confidence while still offering sufficient dexterity and comfort so that accuracy is still maintained for optimal performance.
Protective gloves from Lead Glass Pro are industry-leading defenders against scatter radiation, providing comfort and dexterity to ensure safety without sacrificing mobility or precision. We offer leaded and non-leaded gloves in varying thicknesses and sizes so users can find the fit most appropriate for their needs.
THE THINNEST RADIOPROTECTIVE GLOVE ON THE MARKET AVAILABLE IN BOTH LATEX (XGUARD®) AND POLYISOPRENE (FREEGUARD®).
XGUARD® AND FREEGUARD® GLOVES OFFER PROTECTION FOR HIGH-EXPOSURE PROCEDURES IN:
• Radiology
• Cath/EP Lab
• Orthopedics
• Endoscopy
• Urological Procedures
• Special Procedures
• O.R.
• Pain Management
The XGuard® and FreeGuard® lines of sterile radiation-reducing gloves protect against radiation exposure while providing mobility and comfort, as thin, texture-grained fingertips enhance tactile sensitivity. At the same time, anatomically correct curved fingers reduce hand fatigue, increasing precision and safety during high-exposure procedures. Our gloves ensure you can focus on your procedure without uncomfortable distractions or worries about compromising your safety.
LEADED XGUARD® GLOVES AND UNLEADED FREEGUARD® GLOVES BOTH PROVIDE:
• The thinnest radioprotective glove on the market
• Guaranteed protection against bloodborne pathogens
• Certified levels of protection against the risk of cross-contamination between physicians and patients
• Highest comfort during surgical precision work (like handling guide wires during fluoroscopy procedures) while offering an extremely high level of radiation protection
HOW IS PROTECTION MEASURED?
LEAD EQUIVALENCY: Thickness of lead providing the same attenuation. Expressed in mm of Pb (chemical symbol for lead)
*Gloves are intended for scatter radiation exposure, not primary beam exposure